If you have ever watched television programmes such as the Great British Bake Off or Bake Off: The Professionals or checked out Instagram or Pinterest, you will have seen some spectacular cakes decorated with edible flowers.
Using flowers is an extremely easy and beautiful way to decorate cakes and you can add fabulous colour to your delicious creations without ever having to use food colouring. Your floral decorations can either be real flowers or if you can't easily buy or gather real flowers, you can make fondant flowers.
Using real flowers has in the last few years become a very contemporary and stylish thing to do; however, real flowers have been used in cooking for thousands of years. Flowers draw us in with their colour and scent, so it was only a matter of time before it was necessary for people to also taste them. Flowers quickly became a source of food for ancient civilisations and they were also used for their medicinal benefits.
There are a few very important things you need to know before you start picking flowers or raiding a bouquet you received and decorating your delicious cakes with them. Not all flowers are edible; in fact, some are toxic, some are inedible, some are poisonous, and many flowers grown commercially are sprayed with pesticides and fertilizers, so even if they are on the edible list below, be sure to check with your supplier where they sourced their flowers from and what conditions they were grown in. Better still, you could grow your own from seed.
What flowers are edible for cakes?
Abutilon flowers are stunningly beautiful and exotic looking blooms which work so well on a wedding or other celebration cake. They have a mild citrus-sweet like flavour and are also fabulous for tea. Colours – yellow, orange, red, coral, peach, pink or white.

Begonia (Tuberosa begonia)
These flowers are about the same size as an apricot and are beautiful shades of peach, orange, yellow and cream. They are very fleshy in texture and have the most incredible citrus flavour. Sharp and sour and supposedly not dissimilar to a cooking apple, hence the fact that they are sometimes, rather confusingly, referred to as apple blossom.

Also known as a star flower, borage is an annual herb. Its flowers and leaves, as well as the oil from its seeds, are used as medicine. Its flowers are most often blue, although pink and white flowers are sometimes available. Traditionally it is used as a garnish in the Pimms Cup cocktail and looks lovely on cakes.

Calendula (Calendula officinalis)
Only the petals can be used. They have a tangy almost citrus flavour and as well as for decorating cakes are fabulous in salads, folded into pasta and in a citrus butter for melting over fish or chicken. Colours – orange, yellow and cream.

Celosia Coral Flowers and Celosia Feather Stick
This flower has a lovely range of strong colours for summer and autumn. Not the greatest flavour or texture for that matter but what they lack in taste appeal they make up for in showy pizzazz. Colours – pink, red, white, cream and green.

Coriander (Coriandrum sativum)
Coriander flowers have the same flavour as the leaves and are produced in masses of tiny white delicate fronds which make a beautiful and delicate decoration for cakes and garnish for many dishes. It is a safe alternative to the poisonous "Baby's Breath" Gypsophila.

Cornflower (Centaurea cyanus)
These have a slightly sweet almost spicy clove-like taste. Cornflowers come in a range of pink, blue and almost black. They crystallise well so are great for cupcakes.
Apparently similar to mango in taste. As well as for decorating cakes, they can add a lovely crunchy bite to salads or for just floating in summer drinks. The small leaves are also edible and nice in a salad. Colours – orange, yellow, red and yellow.

Courgette (Cucurbita pepo var. courgette or marrow)
Courgette flowers have a sweet nutty flavour which is great for cakes and these flowers are robust enough to use in tempura, for stuffing or folding into pasta dishes.

Cucumber flowers (Cucumis sativus)
Yellow cucumber flowers have a sweet nutty flavour and are a beautiful garnish for many cakes, other dishes and cocktails.

Dahlias have a lovely range of strong colours for late summer. Related to sunflowers the petals are a pretty addition to salads and have a slightly bitter taste. They are stunning as statements on wedding cakes as well. Colours – purple, black, pink, red, white, orange and cream.

The common daisy has some wonderful modern cultivars that come in a range of reds and pinks and white. The petals are not particularly intense in flavour but make a lovely garnish for both sweet and savoury dishes. Colours – pink, red and white.

The petals of daylilies have a wonderful, sweet crunch and are used in a lot of recipes from East Asia where the plant originated. The buds can be sliced across and eaten or the petals can be removed once the flower has opened. Colours – orange and yellow.

Carnations, Pinks (Dianthus)
These petals can be steeped in wine or sugar, or used as cake decoration. To use the surprisingly sweet petals in desserts, cut them away from the bitter white base of the flower. Also lovely for petal confetti. Carnation petals are one of the secret ingredients that have been used to make Chartreuse, a French liqueur, since the 17th century. Colours – pink, red, burgundy and white.

These are perhaps one of the most famous of all the edible flowers and are used to make elderflower cordial. They are also a beautiful frilly garnish for decorating cakes, cocktails and desserts and wonderful for making elderflower vinegar or gin.

Stunning crunch bites of pure aniseed, perfect with savoury dishes such as pork and beautiful to garnish desserts and cakes.

These are gorgeous little flowers, mainly in blue but also in white and pink. They are lovely for cakes, garnishing salads or canapes or for floating on cocktails.

Sweet and crunchy fuchsia flowers are lovely on cakes, in cocktails, set in jellies or served with desserts or salad. The berries on some varieties are edible too, but check it out first.

These are beautiful flags of crunchy sweetness, really not what you expect taste-wise. The flowers have a very sweet floral lettuce flavour. They are beautiful as decorations on cakes or the individual petals can be used within salads or as garnishes. Colours – white, red, peach, lilac, green, purple and pink.

English lavender is superior for culinary use and French lavender is used for the perfume industry. Lavender is famous for its use in English sweet dishes such as shortbread and cakes, but it is also a fabulous substitute for savoury herbs such as rosemary or thyme and is fabulous with lamb, chicken or game. It also makes a stunning syrup for cocktails. Colours – purple, white and pink.

Pansies are the most colourful of all the edible flowers and are extremely versatile. They have a long flowering period, come in a wide range of flowers, crystallise beautifully and can be used whole or just as individual petals; fabulous on cakes. Colours – peach, orange, yellow, red, pink, blue, purple, white and cream.
Roses have had culinary uses for centuries. They vary enormously in flavour but generally the more scented the better the flavour will be. They are fabulous in jams and cakes and crystallised.

Great colour with almost orchid-like faces with a slightly bitter flavour not unlike chicory. These are perfect as a cake "garnish" or for clipping onto the rim of cocktail glasses. Colours – pink, red, white, orange, yellow, peach and burgundy.

Tagetes are members of the marigold family. They have a citrus flavour and distinctive "marmalade" perfume which work with both sweet and savoury dishes. They are perfect for cupcakes. Colours – orange, yellow and red.

Tulips come in a range of colours and make wonderful, sweet canape "containers" even for ice cream. Their petals can be used as cake decorations.

Smaller than pansies, these are dainty, colourful flowers that are perfect for crystallising and are available in a wide range of colours. They are the most commonly used of the edible flowers.

Devon violets are famous across the country and have a distinctive fragrant flavour, beautiful and delicate for cake decoration. Colours – purple and white.

Wild Primroses (Primula vulgaris)
A delicate fragrant flavour and their yellow shades look beautiful as a spring garnish. They also look stunning on cupcakes or set in a jelly.
The flowers listed above are some of the main varieties used in cake decoration. There are other varieties of edible flowers that look fabulous as a decoration; however, they actually may not taste that good even though they are edible so they are safe to use. Generally speaking, it may be best to choose the flowers from herbs, violets, nasturtiums and rose varieties; these offer some of the best flavours for cakes.

What flowers are not edible for cakes?
No flower is safe to eat or use on or near food products unless it has been organically grown. This means that no chemical herbicides or pesticides have been used on or around the plant.
Other flowers that look beautiful but must be avoided include, but are not limited to:
Azaleas.
Baby's Breath Gypsophila.
Calla Lily.
Daffodil.
Holly.
Hyacinth.
Hydrangea.
Lily Of The Valley.
Mistletoe.
Oleander.
Poinsettia.
Rhododendron.
Sweet Pea.
Wisteria.
Although some of these flowers look beautiful, consuming any of them can cause serious illness and some or a combination of the following symptoms.
For example:
Vomiting.
Fever.
Diarrhoea.
Seizures.
Irritation around the eyes and nose.
Hallucinations.
Frothing at the mouth.
Death.
If you are at all unsure whether a flower is edible or not, check it out before using as not all flowers are edible. For example, there are 60 commercial varieties of pansies but only three that are specifically for eating. Also, edible flowers should only be eaten in the amounts specified in recipes.
People who are prone to allergies can have an allergic reaction to flowers, as they can to any food, so proceed with caution when trying unfamiliar flowers. If you have any doubt about the identity of a flower, do not eat it.

Where can you buy edible flowers for cakes?
One of the safest ways to use edible flowers for your cakes is to buy them from a reputable source.
Below is a small selection available from UK outlets:
Things to look out for when buying edible flowers
Mould – This is especially important if you are buying packaged edible flowers. Sometimes it is hard to know how long they have been stored and been in transit from the grower. Look inside the package to make sure there is no mould spreading among the petals. It will usually be a web-like, greyish white mould that fuses the leaves and petals together.
Colour – Flowers should look freshly picked, vibrant and bright. If the colours have started to fade, or they look dull and lifeless, they may be expiring.
Petals – The petals should be perky and life-like. A loss of rigidity is normal after harvest, but they should not become too limp and floppy. Any browning or decaying bits around the edges is a bad sign.

How do you use edible flowers to decorate cakes?
Always wash your flowers before use gently under a cold running tap and then place on kitchen paper to dry. Do not rub or you will break the delicate petals.
You will notice that some flowers like violets, borage and violas are very small. These are the pop-in-your-mouth type of edible flower, so place these straight onto your icing – kitchen tweezers are handy to use.
Larger flowers such as roses, camellia and carnations are probably not going to be actually eaten, although they can be. To display you can insert the flower into a wooden cocktail or kebab stick and push that into the cake to ensure it is steady and that the flower stem doesn't come into direct contact with the cake.
You can also use floral tape to wrap stems or Safety Seal (a food safety wax product) if you prefer, but do not push uncovered stems directly into your cakes. You can make little posies with a variety of different sized flowers and bind them together with floral tape or Safety Seal.
Before you decorate the actual cake, take some time to loosely plan where to place the flowers before committing to an arrangement, as you don't want holes all over your cake. Once you are happy with your plan, push the sticks or the covered stems into the cake one by one – it is as simple as that.
For larger flower bouquets and trailing displays, particularly for celebration cakes such as wedding cakes, a great trick for keeping those covered stems steady and from marking your cake is to create a small, 1–2-inch fondant ball(s) and push your sticks or covered stems into that before placing the whole display on top of your cake.
Decorating your own wedding or celebration cake can be one of the most creative and satisfying things to do for a special occasion, so experiment and have fun.

Storing and preserving edible flowers
You can store fresh florals in the refrigerator. Typically, fresh flowers will last around eight hours, possibly longer, in the refrigerator and remain fresh for a few hours outside of the fridge environment. When you are adding edible flowers to your cakes, place them on the cake as near to serving as you possibly can so that they don't wilt and they will look as if they have just been picked fresh from the garden.
You can sometimes revive wilted or droopy flowers by placing them in an ice water bath for 10 minutes or so. This can re-hydrate the flowers' cells and give them a breath of new life. Use them immediately after removing from the ice water bath, but first place on kitchen paper to remove excess water.
Freezing your edible flowers is a great way to preserve them until you are ready to use. Fill an ice cube tray halfway with water, add a flower, and let it set for an hour in the freezer so that the flower stays in the centre of the cube.
Once frozen, fill up the remaining top half of the tray with water and place back into the freezer until completely frozen. When you want to use just defrost in the fridge to keep cool. Floral ice cubes can also brighten up any cocktail or any clear coloured cold beverage.
You can also dry your edible flowers in a low oven or, if you have one, a food dehydrator. Spread the flowers on a baking tray so they are not touching each other and dry on a low heat for a couple of hours, until the petals have no remaining moisture. Once dry, you can store them in an airtight container for several months. Sprinkle the dried petals onto cakes or any other food that needs a touch of floral beauty.
The best way to have a continuous, long-lasting supply of edible flowers is to grow them yourself. On the plant, many blossoms will be available for harvest from a week to a month long – just snip the blossoms off with a sharp pair of scissors, clean, and use immediately. Often, cutting off not more than 30% of the blossoms will help encourage more blossoms to form. Some of the flower suppliers listed also supply seeds.
Crystallised edible flowers
If want your edible flowers to be a bit more sturdy than they are in their natural state you can crystallise them.
You will need:
Flowers such as primroses, roses, borage, jasmine, violas, nasturtiums, cornflowers, sage or tiny thyme flowers.
Egg white.
Caster sugar.
Kitchen tweezers.
Fine paintbrush.
Baking parchment or greaseproof paper.
Using the tweezers, dip the flower heads or petals first into the egg white and then into the sugar. Use the fine paintbrush to tease the sugar into any crinkles and hollows within the flower.
Shake off any excess sugar before laying the flowers on a sheet of baking parchment. Place in a warm, dry and airy spot to dry for 24–48 hours. When fully dry, store the crystallised flowers carefully between layers of baking parchment or greaseproof paper in an airtight container until you are ready to use. They should keep for a few weeks.
As an alternative to using egg white for people who have allergies, you can make a syrup by heating sugar and water. Once the sugar has melted to form a syrup, let it cool to room temperature and then use it in the same way as you would the egg white.
There are other alternatives to fresh flowers on cakes. You can buy pre-dried, commercially prepared flowers, you can also use sugar flowers, or pipe buttercream flowers or make fondant flowers.

Edible flowers are the perfect decoration for any cake, from little cupcakes to multi-tiered wedding cakes and everything in between; they will certainly impress and delight your guests.
Once you become confident using them you can brighten up other dishes such as:
Begonias and orange and sunflower blossoms in salads.
Calendula/Marigold and chamomile flowers as a tea.
Chicory (cornflower) and clover flowers in jams and jellies.
Honeysuckle flowers in iced tea, sorbets and even vodka.
Primroses can be fermented into wine.
Rosemary flowers taste similar to the herb and can be used in sauces or in butter.
The uses for edible flowers are endless, so experiment safely and enjoy.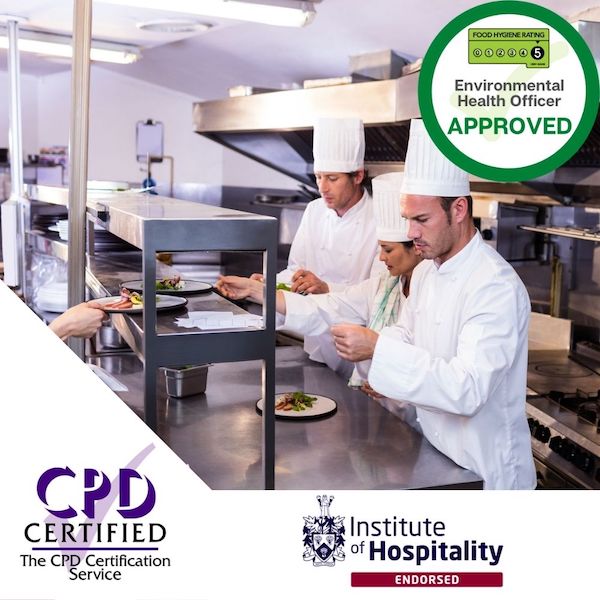 Food Safety and Hygiene for Catering Level 2
Just £20
Study online and gain a full CPD certificate posted out to you the very next working day.

Take a look at this course