Nobody likes to receive negative feedback, especially if you work hard on your customer service experience and don't feel as if the complaint is warranted. In reality, it is these negative complaints that allow your business to flourish.
Feedback can take various forms and learning how to respond to negative feedback is vital. It might be some verbal feedback that's received at an outlet, an email or a written letter – it could also be an online review. Regardless of the format, responding to negative feedback must be prompt.
If you don't have a procedure or protocol in place to effectively respond to negative feedback you could find yourself on a long and costly learning curve. Alternatively, you can handle complaints efficiently and use the experience to bolster your business.
In this article, you will find out more about how to respond to feedback and learn some excellent protocol strategies for handling complaints. But the story doesn't end there. You must also record your complaints and review them for themes and weaknesses in your business model.

Importance of Customer Feedback
Customer feedback is a vital mechanism for optimising your business to respond to customer requirements and market conditions. And if you thought custom feedback was important in the past, it's even more crucial today, in the world of digital enterprise. These days, customers really are the Kings and Queens of the commercial world.
Why is customer feedback important?
Without customer feedback, a company or business would have little or no idea of how well it is performing and meeting customers' needs. It would continue to provide the same service and create the same products assuming customers were satisfied; in reality, there would be many facets of the business that underperformed and could be improved.
Whether it is negative or positive, customer feedback is vital to the optimisation of products and relates to the customers' needs. Obviously, the more a company can tailor its products and services to customers' needs the more competitive that company will be and the more it will stand out in the marketplace.
Advantages of positive feedback
Feedback comes in different forms – some of it is positive and some negative. Many people feel that negative feedback is the more useful kind because it tells a company what they are doing wrong and helps them improve the overall customer experience – but positive feedback is also crucial.
When a customer tells you that your business is working well and they are happy with your service it boosts confidence and morale. It also gives your business more data to work with; maybe there is an opportunity for expanding some of the services that receive good ratings or employment practices that get positive feedback.
Advantages of negative feedback
If you don't receive any negative feedback then you're doing something very right, or very wrong. Negative feedback is a part of the workings of your business and you should actively embrace it as often as you can; offer plenty of opportunities for customers to let you know how your product or service is performing.
It can be hard to accept negative feedback sometimes – nobody likes to be criticised, but when you see that criticism in a positive light you start to value the data. This data can help you make decisions on how to change your business and promote your products moving forward. Cross-analyse it with your positive feedback to identify what isn't working.
The importance of reviews
Social proof is one of the strongest metrics people use to make decisions about what products and services they will use in the future. Social proof comes in various forms but one popular type these days is an online review. This is a bit like a word-of-mouth recommendation, and 93% of people say online reviews impact their buying decisions.
These days reviews are important for increasing the online visibility of your business. They are also used by Google and other major search engines as ranking factors, since reviews are a strong metric for relevance and quality. Encourage your customers to write online reviews and work hard for positive ones.
Responding to Negative Customer Feedback
Around 84% of people trust reviews as much as they trust a personal recommendation, so reviews are important, and dealing with the negative ones are just as important as accepting the praise – possibly even more so.
When you respond effectively and timely to negative reviews and negative feedback you not only win back the trust and praise of the disgruntled customers but you also show new and existing customers that you're a fair-minded and progressive business with customer service at its core.
When you get a negative review you need to know how to handle it so that you can regain the customer's trust and hopefully get the review changed or at least encourage more positive ones in future. It might shock you to learn that companies risk losing as much as 22% of business when potential customers find one negative article on the first page of search results.
At first, you want to acknowledge the issue, even if you don't think you have done anything wrong. Thank the customer for bringing the issue to your attention.
Following the acknowledgement, there is a clear pathway of apology, explanation and compensation. There is usually no need to issue an explanation following the apology but it can help to put customers in the frame.
Responding to negative reviews
These days reviews tend to be online; they are public and show up in search engines when people search for your business. Obviously, you want more positive reviews than negative ones but the negative ones will also be there.
It's actually unrealistic to have no negative reviews on your search results, and if you have none it might arouse suspicion in customers – they will wonder if the positive reviews are genuine. So it's good to have negative reviews as well to show new customers how you respond.
A negative review on your search results or website is an opportunity for you to display your excellent customer service approach to customers. Although negative reviews can be damaging, the good news is that businesses that reply to reviews at least 25% of the time have an average of 35% more revenue.
Responding to negative feedback
Negative feedback can be in the form of a review, but it can also be a conversation or some comments on social media. The same philosophy must be applied to these; if you get defensive about your precious business it will quickly backfire.
Address your customer by name where possible and keep the conversation on a calm and friendly level. Even if the customer is angry or upset you need to use your skill and patience to calm them down and find a constructive resolution.
Follow the format of acknowledging, apologising, explaining, then offering compensation. If your customer is still unsatisfied, reassure them that you will seek to resolve the issue in the near future.
Negative feedback and reviews can come up suddenly and without warning. Still, it's important to respond to them swiftly and skilfully, so you need to have some techniques in your toolbox to use at short notice.
Keep these general tips in mind to manage change in your business:
Respond promptly.
Stay professional and courteous.
Understand the customer.
Apologise.
Take time over the issue.
Be honest.
Turn negatives into positives.
Offer compensation.
Acknowledge the issue.
Stay positive.
Accept the feedback.
After your customer complains or leaves some negative feedback online you need to swoop down and respond to them as quickly as possible. Apologise to them and issue some compensation as a way to make it up; also remember to thank them for the feedback and take steps to change your processes to align more with their expectations.
The journey doesn't end there. In around two weeks you will contact the customer again for a follow-up. This usually consists of a short conversation about the results of their experience with the negative review and some more information on the steps you have taken to resolve the issue for others. These steps should be carried out even if you are a work-from-home business.
The importance of a follow-up
A follow-up should take place around two weeks after the negative feedback was left. This gives the customer enough time to reflect on the service and the response; it also leaves enough of a gap for you to get back in touch with them without appearing overly pushy.
A follow-up to a negative review is important because it lets the customer know you haven't forgotten about them and offers to help them further. The chances are your customer has forgotten the incident and will be pleasantly surprised by the extra attention. It helps to place your customer at the heart of your business.
The results of a follow-up
The follow-up of a negative review or complaint is intended to engage with the customer at a later date to check if the measures you took were satisfactory. You might have altered one of your methods or offered them some compensation. In the follow-up you will get further data on your efforts.
It's unlikely that your customers will expect your call and will be busy with other things. Unless the review was particularly bad you can be confident that it will give you some positive feedback about the review process and your follow-up. Even if nothing much is gained from the interaction, your customer will feel valued and will hopefully return.
How it benefits the business
When it comes to negative feedback an intelligent business strategy is to view it as a roundly positive thing. The fact is that negative reviews will happen but how you respond to them makes all the difference, not only to your unhappy customer but to your present and future customers as well.
The negative feedback you get from customers only serves to strengthen your business if you know how to handle it and use it to bring more value to the customers' experience. As a business owner, bringing value to your customer should be your top priority regardless of your profit margins; and remember, effective feedback can also be used internally to build respect and reliability in your workforce.

It isn't enough to simply listen and resolve a complaint or handle negative feedback, your business must also keep track of these complaints and harness them for the benefits of the company and its customers. There's no point in dealing with complaints only to repeat them with other customers, or again with the same customer.
Although it seems like more work and perhaps more effort than it's worth, keeping track of your complaints and negative feedback is a learning process that can add value to your business, improve customer loyalty, and strengthen your brand for the future. But this is only possible if you approach negative feedback in the right way and keep adequate records.
While it is important to handle complaints and negative feedback in a timely and professional manner, it is also important to maintain clear records of these complaints. This serves several purposes – it allows you to track the kind of complaints that could cost your business valuable revenue and means you have a record for future reference.
A customer complaint and feedback log are simple to create. It's best to create one of these logs on a spreadsheet and ensure your staff have easy access to it through the in-house computers or mobile workstations. The log will include the company name, the contact details of the complaint, the date of the complaint, and a detailed description of the issue.
Complaints handling is a routine part of any business. No matter how well run your business is, customers will complain and you will have to respond. In most cases, these complaints can be turned into opportunities for growth; at other times they will be unfounded. Still, complaints have to be handled and logged in the right way, especially for when customers decide to query complaints.
A customer who complains may not actually be correct, so while you follow the protocol and issue compensation, you may not wish to change your business practices. This can lead to further complaints in the future by the same customers. In these instances, it is useful to go back to your record of complaints to give the customer reliable information on how their feedback was handled.
Another vital aspect of keeping a customer complaints record is as a resource for your business and for recognising themes. Overall, negative feedback and customer complaints are viewed as a positive thing for a business, but only if the information can be streamlined and used to bolster the business and improve your customers' experience.
Handling negative customer feedback in the right way can improve customer loyalty, show companies where repeated errors are being made, help you resolve issues for other customers who haven't complained, and strengthen your relationship with new and existing customers who can see that you are making an effort to improve your service for them.
Customer feedback is not a trivial part of your business model, on the contrary, it's the way you build strength, loyalty and reputation for your brand. Feedback comes in two forms: positive and negative. The positive feedback is welcome but negative feedback is more important. If you learn how to respond to negative feedback in the right way your business will grow in reputation and scale.
Online reviews have become more important for customers, who view them as social proof, similar to word-of-mouth recommendations. So even if your business has a negative review online, responding to negative feedback is your chance to show customers how you operate. For this to work you should have a firm idea of your company values and protocol for how to respond to negative feedback.
Responding to negative feedback is a practice that takes time to perfect, but there are some general guidelines you can follow. Always respond to feedback promptly and acknowledge the issue; apologise for the effect it has had and then offer an explanation followed by some compensation. Finally, remember to log all complaints and review them to strengthen and grow your business.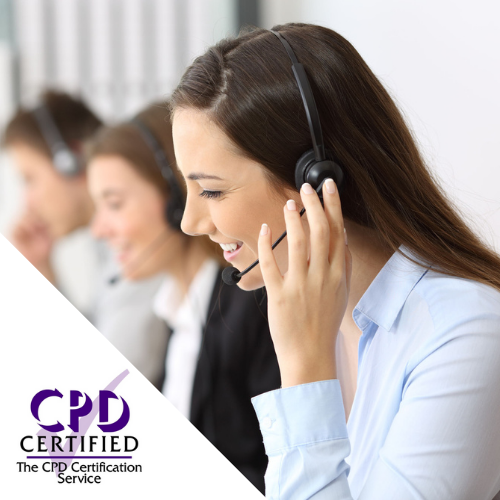 Customer Service Skills
Just £20
Study online and gain a full CPD certificate posted out to you the very next working day.

Take a look at this course